Written by Games of DAYNE | Reviewed on Xbox Series X
---
From the very beginning of My Friend Peppa Pig it is nearly impossible to tell the difference between this video game and the uber-popular children's animated series. Presented as an open adventure that doesn't force the player in any one direction the wide variety of activities and interactions is largely available immediately. Aside from a handful of story driven cinematic and associated events the interactive experience is presented in a manner that truly represents player freedom and exploration at their own pace.
---
---
Opening with a fun character creation suite, the player is able to choose from a variety of different animals, body shapes, fur and clothing colours and accessories. The nameless player character is simply referred to as Peppa's friend and accompanies Peppa and her family to a handful of locations full of things to playfully interact with.
My Friend Peppa Pig uses single button controls to make the entire experience as easy as possible. Interacting with the many points of interest is as accessible as a result and leans into the pressure-less exploration approach cleverly adopted by developer Petoons Studio. Peppa frequently suggests things the player can do but these don't need to be followed, rather they exist to help the player push the story forward but not at the expense of the player's freedom to explore at their will.
Beginning in Peppa's house the adventure spreads out to a museum, Windy Castle, the playgroup, Peppa's grandparents house and Potato City to name a few. These locations are all teaming with characters and objects to interact with, all of them wonderfully brought to life with a vibrant colour pallet that keeps the experience bright and playful at all times.
Drawing pictures at the playgroup, skiing down the slopes of Snowy Mountain and playing dress-up with Peppa's toy-box are just a few examples of the types of interactions these locations offer. These aren't tied to objectives, again reinforcing the idea that My Friend Peppa Pig is more focused on exploration, interaction and in some cases education.
The simplistic approach to the gameplay, storytelling and interactions truly sets this title apart as one of the most accessible games for the youngest of players set in the world of one of the most beloved children's television shows of all time.
While exploring the various available locations the player may be tasked with optional objectives such as finding Daddy Pig's missing glasses, catching chickens, planting seeds and retrieving Peppa's brothers lost dinosaur toy. Any objective presented is entirely optional but if the player does choose to undertake them, they are all very simple and can be found in very close proximity to where the task was given.
With so much to do and explore, My Friend Peppa Pig doesn't restrict replayability. The activities can be replayed multiple times  locations can be travelled to at will. A downside to the optional repetition of things is the inability to skip scenes previously viewed. One in particular is a few minutes long, travelling to Windy Castle with Peppa's family. While little ones may want to go back they may not be as fond of hearing the same unskippable dialogue and scenes played every time.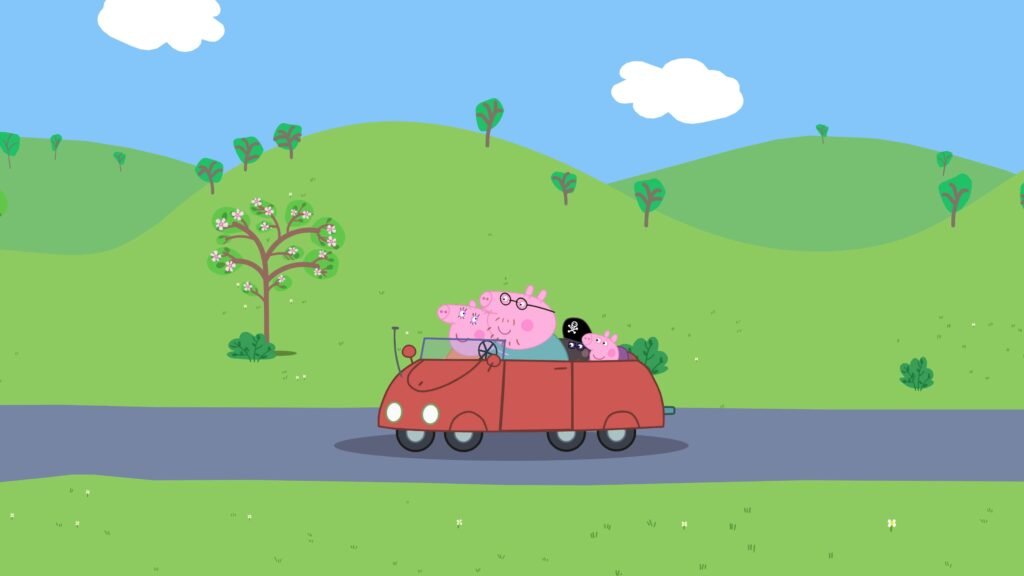 Given the highly interactive and simple approach to the gameplay, it feels less like a video game in the traditional sense. The narration and voice acting is authentic to the presentation of the TV show, maintaining the illusion that My Friend Peppa Pig is essentially an interactive episode. As such this may be less appealing to players outside of the target audience though as it has been developed with the youngest audience in mind, this does not detract from the experience.
My Friend Peppa Pig is an excellent example of how to introduce video games to the youngest of players. The high level of interaction, educational sequences and freedom to explore at the players pace is fun, simple and accessible. Peppa Pig is the perfect playground for the next generation of video game players to dip their toes into. Full of charm, playful energy and an authentic presentation, there's plenty to keep the kids coming back for more to further explore the world of the TV sensation.
---
+ Incredibly simple gameplay
+ Fun interactions
+ Freedom to explore and revisit activities
+ Cool customisation options
+ Authentic presentation
---
– Music can be absent for lengthy durations
– Co-op would have been nice
– Some objectives lack clarity
---
---
Developed by: Petoons Studio
Published by: Outright Games
Release Date: October 22 2021
Platforms: Xbox One/Series X|S, PlayStation 4/5, Nintendo Switch and PC
---
* A digital code was kindly provided by the Publisher for the purpose of this review *
---
– Additional Links –
My preview of My Friend Peppa Pig from the OG Unwrapped event can be found HERE.
For more of my reviews, click HERE.
To see this review and other multi-platform content from my associates at BG4G, click HERE.
For this and additional reviews, latest news, trailers and more from the rest of the team at Xbox Gamer Dad and One More Game, click HERE.
To see all the latest news and reviews from the team at Game News Aus, including this review, click HERE.
---
Don't forget to also follow Games of DAYNE on: Twitter, Facebook and YouTube!
---
All digital photography was captured in-game by Games of DAYNE on Xbox Series X