Written by Games of DAYNE | Reviewed on Xbox Series X
---
The iconic toy car range races its way back to the video game stage in Hot Wheels Unleashed. These micro-sized cars take the race to life-sized environments in a classic arcade style that is fun, simple and ridiculously detailed.
A smothering of upgrade and customisation options, as well as a vast selection of cars to choose from, allow players to strut their stuff in style either locally or online. Bursting with imagination and creativity in its track design, Hot Wheels Unleashed is a suspiciously good joy ride.
---
---
The die-cast collectible range of cars that has been a staple of children's toy boxes for generations has transitioned to the video game platform once again, though Hot Wheels Unleashed is easily one of the finest micro-racers to date. Represented in their actual scale, the cars look amazing, with a level of detail that feels amplified by the life-sized environments that each of the tracks take place in.
Racing through a garage, a skyscraper and a library are just a few of the environments that are brought to life in a manner far grander than they appear on paper. Weaving tracks atop a sea of bookcases and a spiralling raceway that ascends a skyscraper and taking racers outside into the skyline look amazing.
The glaring sun and immaculate lighting in general breathe such credibility to the visuals that it can be difficult to remember that it is toy cars running laps in these circuits. Hot Wheels Unleashed feels larger than life with its playful execution of scale and attention to detail across every aspect of the visual presentation. A diverse photo mode offers some great filters and customisable options to snap the perfect shot that is well worth checking out.
Recent and classic models of cars comprise the suite of cars to unlock and choose from, including a number from films such as the iconic DeLorean from Back to the Future and Batman's Batmobile. Each car has its own specs, affording the player the luxury of choosing whether they prefer the likes of speed or acceleration over turning.
A number of cars are unlocked by playing through the campaign but majority will come as random rewards from blind boxes. These are awarded for winning certain races or can be purchased using the in-game currency earned by playing the game, there is no premium currency or micro-transactions to worry about with this title. The downside to the blind boxes is that they can give you the same car, they are not unique unlocks unfortunately.
The other option of obtaining cars is to purchase them from a selection of five that rotate every 4 hours of in-game play time, not real time. This is an unusual method to say the least and one that demands its players put in a ridiculous amount of time to even consider collecting them all.
There can not be enough said about the excellent level of detail present in the cars. Plastic and metal bodies look as they should, the variety of paint finishes are beautifully accented by authentic decals from the miniature range of collectibles and feel even more genuine with the scuffing, scratching and chipping that gradually become apparent with the chaos on the track. Seeing the plastic poke through the metallic coating is a layer of detail that truly takes Hot Wheels Unleashed into unrivalled territory.
The environments look great and the cars look amazing. Luckily, the gameplay follows suit and delivers a fairly accessible and enjoyable racing experience that leans into the arcade racing style. Drifting corners, activating boosts and avoiding environmental hazards such as spider-webs shot from a gigantic spider perched on top of the race track or tornados that suspect the racers in the air.
It's simple enough to pick up for players of all ages and with the customisation and upgrade offerings available for every car, the experience is surprisingly layered and enjoyable for older players too. Air controls give the player an advantage with experience that allows them to pass over the top of other cars or even make mid-air turns onto shortcut tracks for example.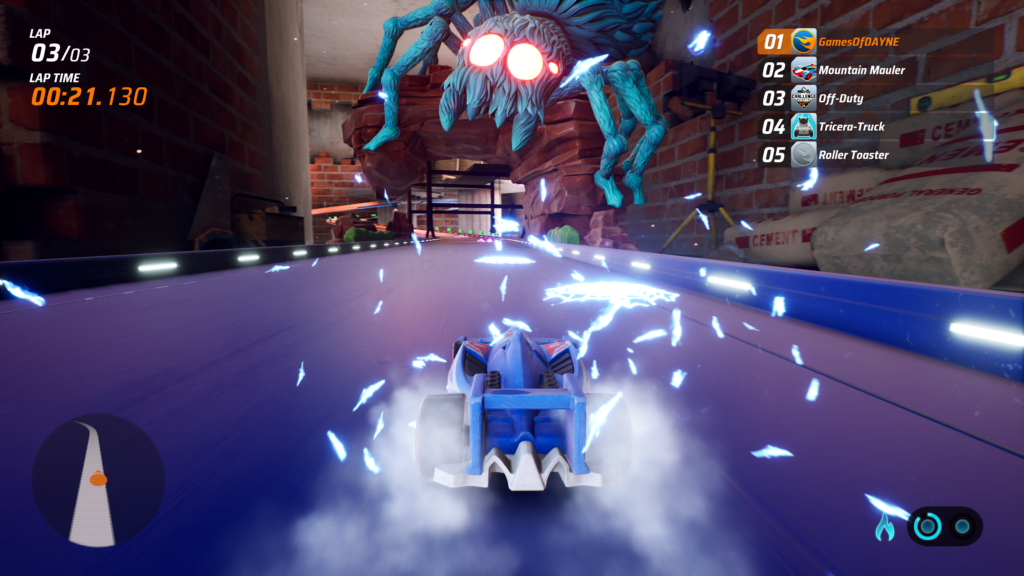 The tracks themselves including simple ones that keep races straightforward and grounded while some of the more technical tracks are winding, packed with tight corners and take things to the air. The environment and the track interconnect and become one in some sections which keeps things exciting and unpredictable.
With only 6 maps to play with it may sound like a light offering in theory but the way each race utilises every aspect of the environment itself feels exciting and slightly different in each variant.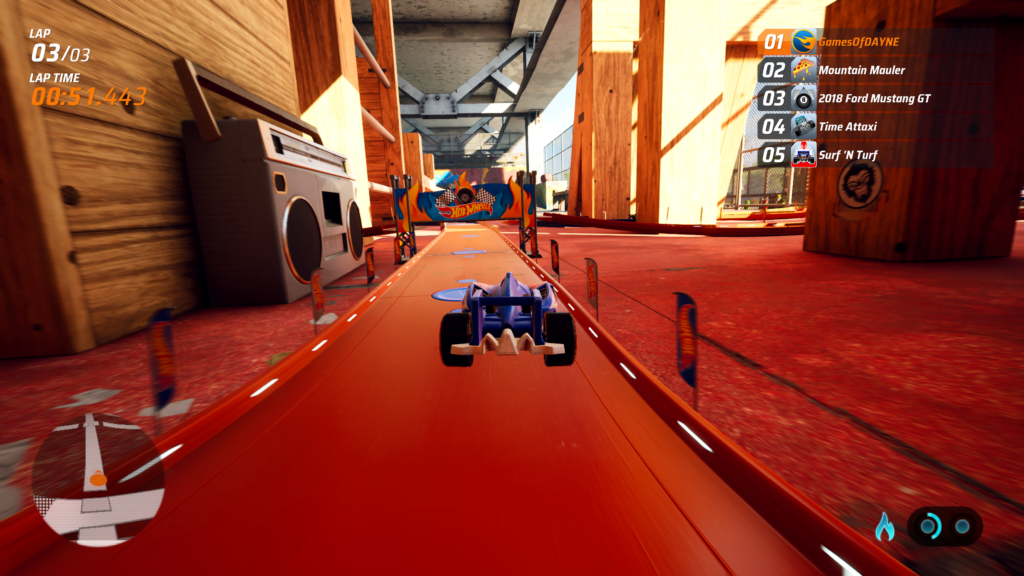 Progression through the campaign is achieved by reaching the lowest of the goals each track demands, keeping it relatively friendly for casual players while also offering some complex and difficult time trials in particular that will require mastery of the tracks and the vehicles to conquer. The lack of modes outside of races and time trials is the biggest disappointment, though the inclusion of local and online multiplayer at least manages to keep things somewhat interesting for those not interested in playing alone.
An incredibly deep track editor offers hours of entertainment for budding creators keen to unleash their custom tracks on the world for others to download and play. Playing with the verticality, twisting and adjusting the length of the track pieces pave the way for some very creative playgrounds.
A basement can also be heavily customised, its purpose seemingly only to give players something else to customise and spend their in-game currency on. Multiple rooms can be customised as well as the floors, ceilings, walls and decorations. It's very robust and fun enough to play around with though I don't quite understand the need for its inclusion.
Hot Wheels Unleashed is a lot more fun than I expected, with its visuals in particular shattering the expectations I had going in. The micro perspective of the cars amidst the life-sized backdrop offers some striking contrast in scale and excitement, keeping the experience satisfying and creative whether playing through the campaign or competitively. The ridiculous level of detail in the cars, including the damage they sustain throughout races, is incredible and the customisation offerings through the cars and track editor encourage players to come back time and time again. Hot Wheels Unleashed epitomises the quote 'big things come in small packages'.
---
+ Stunning details of the cars
+ Beautiful environments
+ Brilliant lighting
+ Fun, simple and accessible gameplay
+ Customisation and track editing
---
– Lack of modes
– Obtaining new cars is cumbersome
---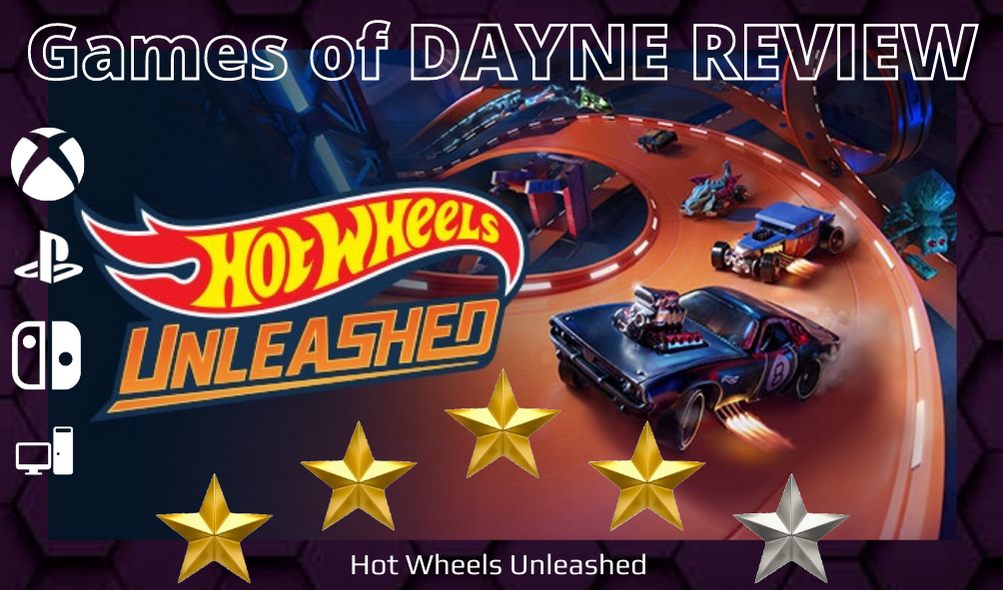 ---
Developed by: Milestone
Published by: Milestone
Release Date: September 30 2021
Platforms: Xbox One/Series X|S, PlayStation 4/5, Nintendo Switch and PC
---
* A digital code was kindly provided by the Publisher for the purpose of this review *
---
– Additional Links –
For more of my reviews, click HERE.
To see this review and other multi-platform content from my associates at BG4G, click HERE.
For this and additional reviews, latest news, trailers and more from the rest of the team at Xbox Gamer Dad and One More Game, click HERE.
To see all the latest news and reviews from the team at Game News Aus, including this review, click HERE.
---
Don't forget to also follow Games of DAYNE on: Twitter, Facebook and YouTube!
---
All digital photography was captured in-game by Games of DAYNE on Xbox Series X