Written by Games of DAYNE | Reviewed on Xbox Series X
---
Blaze and the Monster Machines have been tearing it up for 7 years as a Nickelodeon television series and now Blaze and the gang have finally raced onto consoles and PC in Blaze and the Monster Machines: Axle City Racers.
Featuring eight characters from the show to race as, Blaze and friends take to the track in an extremely family friendly racer with accessibility options to allow even the youngest of players to enjoy the fast and chaotic nature of the races.
---
---
The game opens with a brief tutorial that explains the gameplay and introduces the mechanics such as boost pads and the unique skills that each of the characters possess.
After learning the basics the player is free to choose from any of the three game modes to play in.
Quick Race – Custom Race, Random Race, Random Championship and Tutorial sub-modes are available

Custom Race allows players to choose from the 10 available tracks from the 4 locations, set the race to be between 1 to 5 laps and either Easy, Medium or Hard difficulty
Random Race will choose a track at random and allow the player to select a difficulty
Random Championship will place players in one of the three championship series', consisting of 3 laps each
Tutorial will let players revisit the opening tutorial mode to refresh their memories if necessary
Play with Friends – Custom Race, Random Race and Random Championship sub-modes are available, each with the respective settings as mentioned above for Quick Races. Up to 4 players can compete against each other in local multiplayer
Adventure – This mode is the equivalent of a campaign or career. Three Championships, each consisting of three 3-lap races are available as well as a final 5 lap event.
Regardless of the game mode, players can choose from the eight playable characters. Each of their unique skills are fun to experiment with such as Blaze's turbo ability, Pickle's shield to protect him from projectiles or traps and Crusher's earthquake ability that slows down the other racers. The action on track is playful and friendly for younger players, not to mention fun!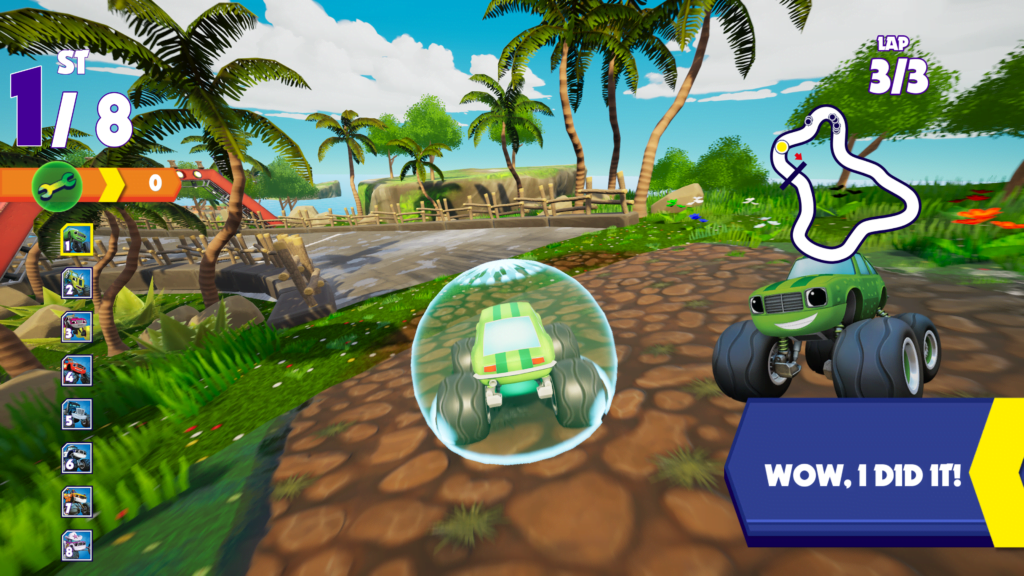 Wrenches concealed inside green orbs are littered throughout the track and players need to collect 10 of them to access their characters unique skill. There is a very generous amount in each instance, allowing multiple players to pick a few up each time. Using the drift feature is a great way to collect multiple at once and successful drift also award the player with a brief speed boost to gain the edge over the competition.
The races are all relatively short which is great for younger players who don't necessarily have the attention span for longer races, experience with racing games and to help keep the young one's play sessions tight. One of the greatest features in this title is the inclusion of auto-driving. Players can simply access the pause screen and with the tap of a single button, they can activate the feature which automatically accelerates and steers, though players can still steer while the feature is active if they wish.
The simplicity of the gameplay is great for younger players as the core gameplay consists only accelerating, braking, drifting and using the skills. It is easy enough for them to pick-up and play and enjoyable enough to entertain older players or parents who may be sharing the experience with them.
Beautifully faithful to the art direction of the hit television series, Axle City Racers looks and feels like the show. The environments are bright, colourful and charming and the characters are just as vibrant and endearing. There is joy to these types of experiences that are aimed at younger players that are inescapably joyful to its entire audience, regardless of age. The playful chaos that each of the character's skills bring to the racetrack keep each race entertaining and fun.
Blaze and the Monster Machines: Axle City Racers is a fun little kart-racer that is wonderfully charming to look at and offers such great accessibility options that the youngest of players can enjoy without the pressures of complex controls. It's simple, it's fun and the competitive local co-op should inspire some fun competition between the whole family. With accessibility in mind, and some fun educational facts that serve as the load screens, this title doesn't overcomplicate anything and that's what helps it stand out in the kart racing genre as more than just a licensed title.
---
+ Very simplistic gameplay
+ Great accessibility
+ Charming presentation
+ Races are short and sweet
+ Character skills give it just enough edge
---
– Older players may find the Adventure mode a little short
– A few more locations and modes would have been nice
---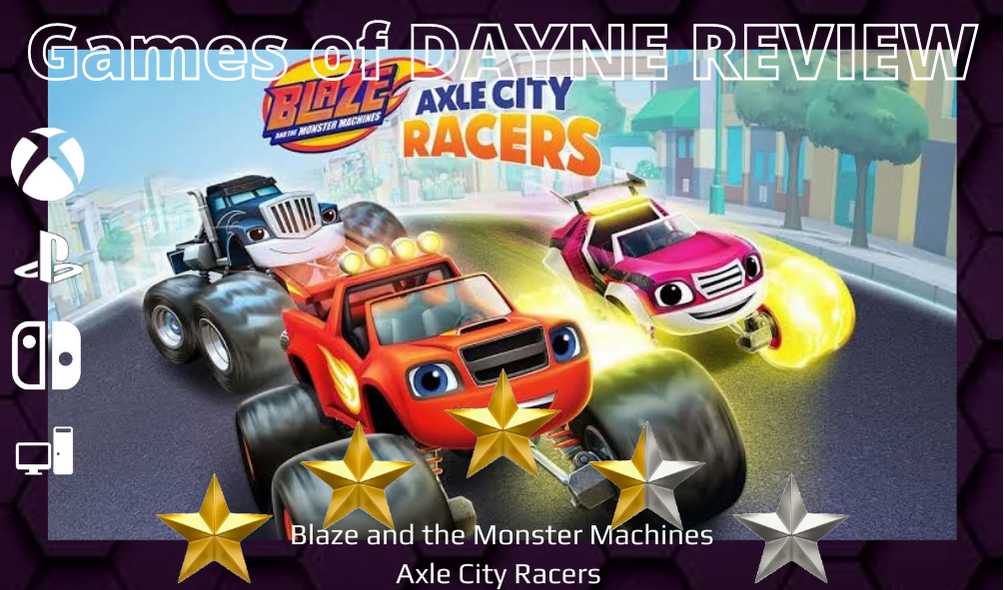 ---
Developed by: 3D Clouds
Published by: Outright Games
Release Date: October 1 2021
Platforms: Xbox One/Series X|S, PlayStation 4/5, Nintendo Switch and PC
---
* A digital code was kindly provided by the Publisher for the purpose of this review *
---
– Additional Links –
For more of my reviews, click HERE.
To see this review and other multi-platform content from my associates at BG4G, click HERE.
For this and additional reviews, latest news, trailers and more from the rest of the team at Xbox Gamer Dad and One More Game, click HERE.
To see all the latest news and reviews from the team at Game News Aus, including this review, click HERE.
---
Don't forget to also follow Games of DAYNE on: Twitter, Facebook and YouTube!
---
All digital photography was captured in-game by Games of DAYNE on Xbox Series X