Developed by 3D Clouds | Release Date: October 1 2021
Platforms: Xbox One, PlayStation 4, Nintendo Switch and PC
---
Blaze and the Monster Machines have been tearing it up for 7 years as a Nickelodeon television series. In just over two weeks however, Blaze and the gang are racing onto consoles and PC in Blaze and the Monster Machines: Axle City Racers!
---
---
With two young children that are obsessed with cars, whether they are toys, on-screen characters and even the real things, this title I can say with certainty is going to hook my boys, 3 and 5.
The loading screens between races have fun facts that are a nice little addition to keep the experience as informative as it is enjoyable.
The official synopsis for Blaze and the Monster Machines: Axle City Racers reads;
"On your marks, get ready to race with Blaze and the Monster Machines! From Axle City to the Monster Dome, the world of Blaze is yours to explore! So buckle your seatbelts and take control of Starla, Pickle, Crusher, and more friends. It's time to race at blazing speed for the championship or play with up to 4-players in split-screen mode! The fun keeps on rolling. Boost and drift around classic Blaze tracks. Power-up with special abilities or customize Blaze in the garage. And with STEM education features, plus accessible options like Auto-Drive, kids will love learning as they race for glory!"
Each of the playable characters/vehicles have a unique ability that are simple to activate and fun to play around with. The simplicity to the gameplay is incredibly well though out as there is even an option to auto-drive which allows the player to steer while the car auto-accelerates or vice versa. This accessibility will be a great tool for helping younger players adjust to the multi-tasking required with this type of game.
Supporting 4-player local split-screen, Blaze and friends can race it out while all members of the family jump in and try to take their cute characters to the finis line first. It's certainly not as chaotic as a Mario Kart type game for example but it offers the same sense of playful mayhem in the most accessible of manners.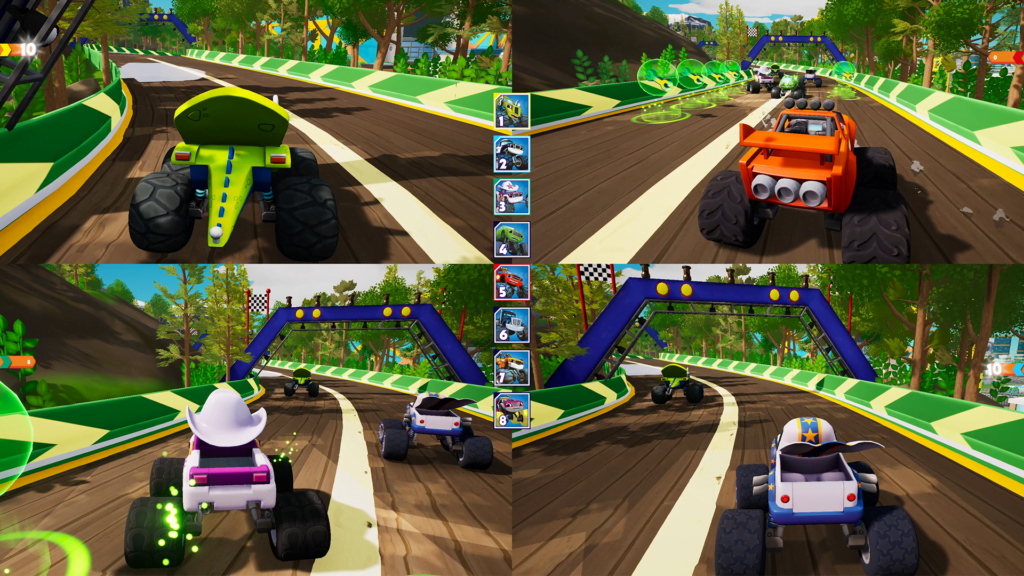 Blaze and the Monster Machines: Axle City Racers feels like a fun little kart-racer that is wonderfully charming to look at and offers such great accessibility options that the youngest of players can enjoy without the pressures of complex controls. It's simple, it's fun and the competitive local co-op should inspire some fun competition between siblings. This dad still needs to learn to let the kids win more and I feel like the joy they will feel when they're able to control the characters they enjoy watching on TV just might motivate me to let them win… maybe.
---
To keep up with everything Outright Games you can follow them at the links below;