(Reviewed on Xbox One by Games of DAYNE)
Online dating… glowing boxes… the advent of social media. After being missing for some 30 years, middle-aged Larry has a lot to catch up on but some of his schtick should have been left in the past.
Leisure Suit Larry has been around for over 30 years, returning for the 10th instalment in Leisure Suit Larry: Wet Dreams Don't Dry. For those unfamiliar with this series, Larry Laffer is a leisure suit wearing man in his 40's out to seduce any woman he casts his eyes upon. For players who have kept up with Larry's escapades over the last 3 decades, the premise remains essentially the same.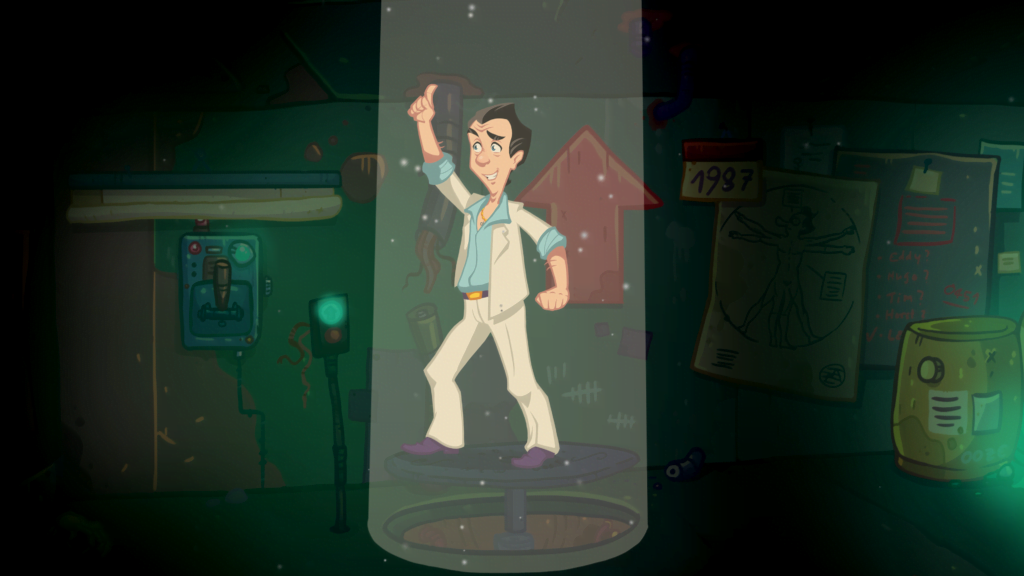 This time however, Larry has emerged from a room in a sewer to be told he's been missing for about 30 years. Thrust into the 21st century without a clue of technology, Larry is once again going to do whatever it takes to score a date with a woman out of his league. What follows is as silly and juvenile as fans of Larry can expect but for newcomers, Larry's exploits may be a tough pill to swallow in this very much non-NSFW point and click adventure.
Naughty by Nature
Set in New Lost Wages, a half dozen explorable locations are the backdrop for Larry's adventure. Full of naughty imagery, both obvious and subtle, the varying locales each have an adult… flavour. Suggestive paintings, graffiti and posters for example are in abundance, as are bushes and even buildings that are very phallic in nature. Whilst this is amusing it feels a little much though I am very much aware that this was less an issue when I played other entries in this series a decade ago. Nonetheless it remains entertaining and the silliness of the environment is reflective of the personality that Larry and the supporting cast possess.
I'm playing for the plot…
Accompanying the adult imagery, the story sets Larry up with a goal very early on. After wrapping his head around the technology surrounding the most popular type of cellphone in the 21st century, the PiPhone, Larry learns about social media and dating apps. Farcebook, Instacrap and Timber are obviously cheeky spins on the wildly popular apps their names are inspired by but it's Timber, an online dating app, in particular that drives the story. On Timber, a user earns points from their dates that contribute to their Timber Rating. Enter Faith, a beautiful middle aged assistant to technology giant Prune CEO Bill "BJ" Jobs. Initially rejecting Larry's advances, Faith agrees to go on a date with him if he reaches a perfect score of 90 on Timber.
Online dating changed the game
With the premise established, Larry's entire adventure is driven by his efforts to increase his score by dating several other characters. Each character though will not simply go out with Larry, instead, Larry must complete a series of tasks to be afforded this opportunity which *SPOILER ALERT* always ends with naughty time…
These characters are as weird and crazy as Larry, resulting in a well balanced cast of quirky characters in this naughty adventure. Larry's interactions with these character occurs via decision based dialogue system. Some dialog options will not become available until certain tasks have been completed, items found or other characters met.
Playing with myself
As a single player point and click adventure, Leisure Suit Larry: Wet Dreams Don't Dry has the player exploring the various locations and interacting with items of interest and other characters in order to progress. Items found can be used or combined with other items to solve puzzles. The player is also able to look at points of interest or characters and use items with/on them.
Majority of the puzzles are relatively straight forward however there are a few occasions where it is not clear what it is that actually must be done. The solution is easily identified by examining your inventory or paying closer attention to the surroundings.
Frequent backtracking is required as new items are discovered or tasks are completed for instance that will open up new dialogue options with characters or allow access to previously inaccessible areas. Fast travel is activated by the Unter app on Larry's phone when near the road of whatever location he is at.
Dressed to impress
A cool Adult Swim style art design paints the cast and environment of this naughty world as fun and quirky. The visual presentation is not unlike something that would be seen in an adult oriented animated TV show and it works. A funky soundtrack and decent voice acting bring the ridiculous plot and dialogue to life.
Unashamedly adult in nature, the language, suggestive themes and explicit visuals reserve this title for an adult audience only.
Should you swipe left? Or right?
Leisure Suit Larry: Wet Dreams Don't Dry is as ridiculous as its title but it's weird and quirky execution entertains for the most part. A part of me feels I would have appreciated this more 10 years ago at the end of my teenage years and that isn't a bad thing. While I may consider myself to be more mature than I was back then there are still several moments that amused me and made me LOL… a reference Larry would certainly not understand after his 30 years of being missing.
A lot of the jokes are funny but there's also just as many that don't land. On top of that, the general context of Larry's pursuit of women is something that doesn't work the same as it would have a decade ago. The world has changed since Larry's earlier adventures and he as a character is something we are seeing less of as the years go by. While this title is admittedly entertaining and actually a moderator challenging adventure, his views and motivations can be a tough pill to swallow in today's day and age that is likely to alienate players that aren't fully aware of the nature of the game they are playing.
+ Some funny moments and dialogue
+ Larry and supporting cast are interestingly weird
+ The adult nature amuses more than it should
– Larry's views and motivations don't work in modern society
– Immature themes may alienate
Games of DAYNE Rating
Developed by: Crazy Bunch
Published by: Assemble Entertainment
Release Date: September 15 2020
Platforms: Xbox One, PlayStation 4, Nintendo Switch and PC
– Additional links –
For more of my reviews, click HERE.
To see this review and other content from my associates at BG4G, click HERE.