(Reviewed on Xbox Series X by Games of DAYNE)
---
Hazelight Studios changed the game in regards to story driven co-operative exclusive experiences with A Way Out. Highly cinematic with a deeply personal tale of two characters, A Way Out was designed with co-operative gameplay in mind with clever sequences that saw the players have no choice but to work together. Three years later and their next title is finally here in the form of It Takes Two. Following the same successful blueprint, It Takes Two is exclusively co-operative with local and online options to play with a friend.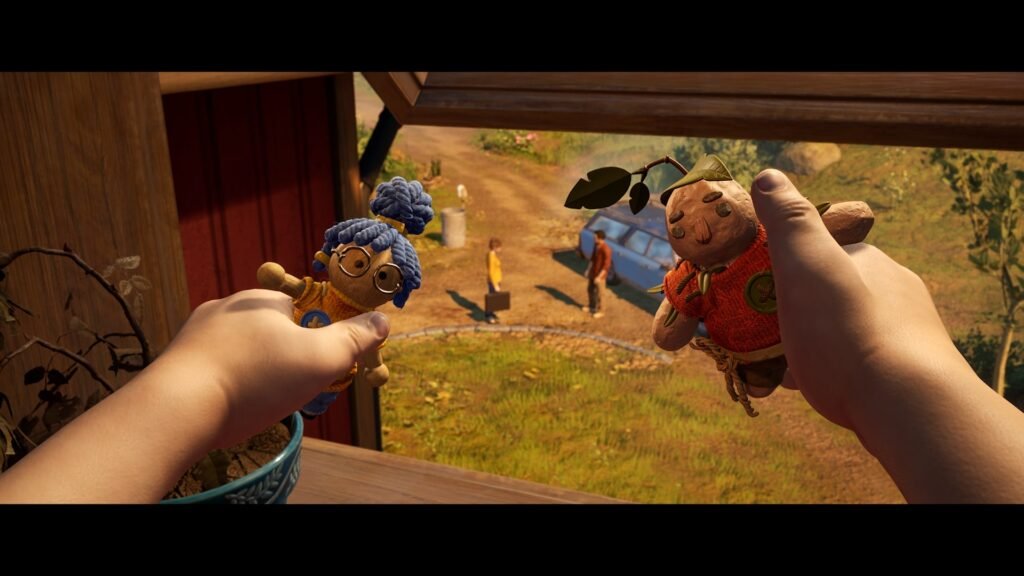 The story starts with Cody and May discussing their divorce, overheard by their young daughter Rose. With dolls of her parents that she has made in hand, Rose's tears transport Cody and May into the bodies of these dolls and they embark on adventure to return to their bodies and as per the guidance of the Book of Love's wacky manifestation, rekindle their romance. Wild and undeniably creative, It Takes Two is a world of near limitless possibilities and co-operative delight.
Shortly after becoming trapped in the bodies of dolls, Cody and May are introduced to Dr. Hakim's Book of Love whom, like dozens of other inanimate objects, is now alive in this world of wonder. The Book of Love himself is ridiculously energetic, lively, entertaining and at times annoying though the latter is an intended balancing act of his determination to bring Cody and May back together and reluctance to stay quiet on the matter. His charismatic charm is ever present throughout It Takes Two's seven chapters which, dependent on the pair of players problem solving abilities, will take around ten hours to complete.
Cody and May's relationship has been on the decline for some time and It Takes Two playfully explores their emotional issues and cleverly manifests them into gameplay mechanics. One of the most standout examples is Cody believing May is never around, with her quipping she "can"t be in two places at the same time" and that Cody has no concept of time.
The Book of Love takes their issues literally and affords May the ability to clone herself and Cody the power to control time. This is simply one of many, many unique gameplay mechanics that players can expect to enjoy throughout the experience as It Takes Two thrives in introducing new mechanics and genres with effective regularity.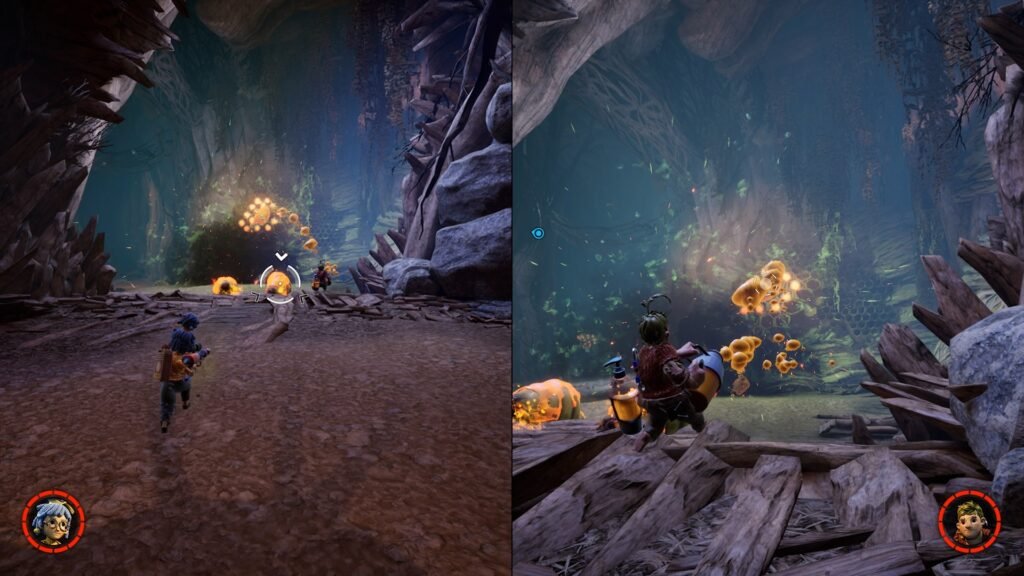 Where It Takes Two stands out from the competition is its boldness of experimentation and creative freedom. Crossing genres such as on rail experiences, aerial combat, side scrolling, action, fighting, platforming, you name it, It Takes Two probably covers it. As per the words of game director Josef Fares, "instead of having collectibles and other shiny sh#t", hidden throughout the chapters are 25 mini-games that are all unique and competitive, offering little more than some friendly competition, a few laughs and variety. These are not required to progress the story but they are too fun to simply ignore.
Personally, I have never played a single title that packs in as much variety, unique, ever-changing gameplay mechanics and such masterful co-operative puzzles as It Takes Two. Hazelight Studios have raised the bar they set with A Way Out to new heights, likely to remain unchallenged until their inevitable next co-op adventure.
As diverse as the gameplay mechanics are, the environments are just playfully constructed, presenting It Takes Two in the style of the Toy Story films for instance, making the world larger than life within the confines of locations such as a bedroom, a tree in the backyard or a toy castle. The insects, animals, toys and inanimate objects that populate these locations become lively and characterised.
The vision of Hazelight Studios ultimately translates to an incredibly charming and vibrant world with playfully creative gameplay that changes so often that the mere thought of the experience becoming repetitive is non-existent.
The world through the lens of a divorcing couple trapped in the bodies of dolls is beautiful, immersive and incredibly fascinating. The visual detail is exceptional within each environment and every character brought to life. Lighting in particular is awe-inspiring and adds dimension to the playgrounds that serve as salvation for Cody and May's broken relationship.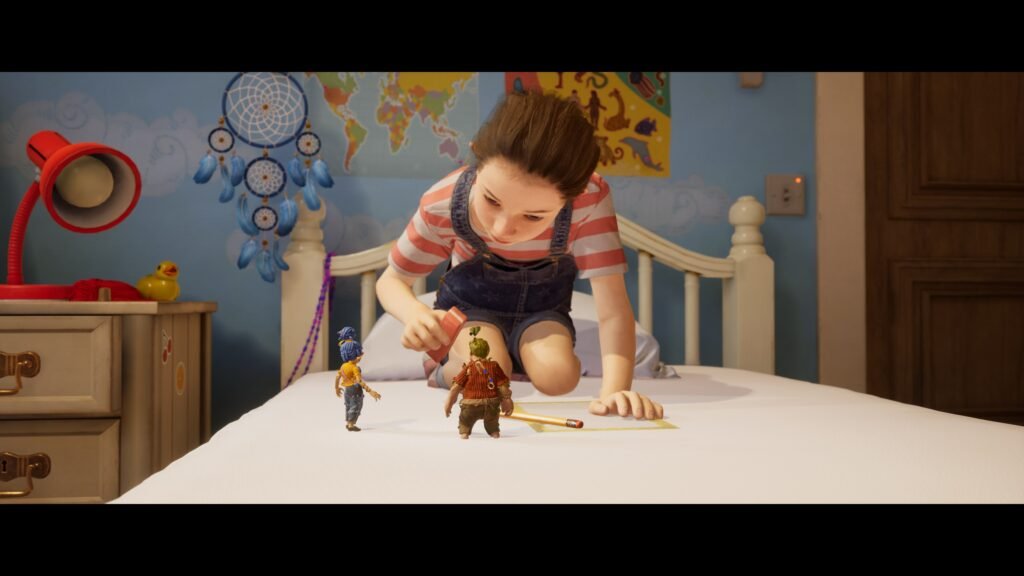 The sound design is similarly striking with a beautiful score that shifts gears when required to up the ante, increase the energy and tension or slow right down for the deeply emotional story beats. With such a diverse arsenal of enemies, NPCs (non playable characters) and environmental elements, the sound effects are appropriately designed to feel fun, effective and believable.
As a co-operative exclusive experience, a free friend Pass is available for download on all platforms that allows those who download it to play the full game with someone who owns it. This genius concept takes into consideration the fact that this title can not be played alone and lets friends play together with only one version of the game having to be purchased.
While it's impossible to feel disappointed that It Takes Two can't be played alone, as this is heavily advertised, reiterated and designed with that fact in mind, it does complicate the ability for certain players to actually play through it together.
I have played through It Takes Two twice, first with my fiancé, and second with my best and oldest childhood friend. Each of them had differing availabilities and outside responsibilities that made it impossible to playthrough in just one or two sessions. Not being able to play a game when you want to is a little frustrating to say the least, yet I knew that going in. As the title suggests it takes two to experience this adventure and when the stars and timetables align, it is one hell of a ride.
It Takes Two is simply phenomenal. The gameplay is incredibly diverse, fun and consistently engaging. The world it takes place in is so creative, full of imagination, wonder and charm that is inescapably mesmerising and the wealth of optional mini-games keep the experience as dynamic and unpredictable as possible. The narrative is full of heart and packs its emotional punches while also offering several moments of levity, humour and self-discovery.
Playing through an experience about fixing a broken relationship was very enjoyable with my fiancé, while we couldn't necessarily relate to the actual problems between Cody and May it generated conversation between us as we played and like the characters we controlled, we worked together to strengthen our relationship and bond as a team.
Hazelight Studios are solidifying their position as the masters of co-op narrative adventures, offering up yet another incredible experience strengthening on the bond and problem solving skills of two players that is best described with a single word. Masterpiece.
---
+ Unprecedented and enjoyable gameplay variety
+ The optional mini-games
+ Charming and light hearted story
+ Wonderful world and environmental realisation
+ Stunningly playful visuals
---
---
Developed by: Hazelight Studios
Published by: EA
Release Date: March 26 2021
Platforms: Xbox One/Series X|S, PlayStation 4/5 and PC
---
* A digital code was provided by the Publisher for the purpose of this review. *
---
– Additional Links –
For more of my reviews, click HERE.
To see this review and other multi-platform content from my associates at BG4G, click HERE.
If you're looking for the latest Xbox Achievement video guides and more Xbox content, Cheevo Guides has you covered HERE.
---
Don't forget to also follow Games of DAYNE on: Twitter, Facebook and YouTube!
---
All digital photography was captured by Games of DAYNE in-game on Xbox Series X.