(Reviewed on PlayStation 4 by Games of DAYNE)
---
Godfall received some pretty mixed reviews when it originally launched alongside the PlayStation 5 in November but after a handful of updates, it started to be received the way it deserved. With the Fire and Darkness expansion that arrived with the PlayStation 4 launch of Godfall, my review of which can be found HERE, it seems to be unanimous that Godfall is where it should have been nearly a year ago. Adding a new realm to explore, new challenges and new gear – including the Cursed tier, Fire and Darkness has brought Godfall to heights as epic as its premise.
---
---
The expansion wastes little time in introducing a menacing new antagonist in the form of Moirax, a dark and towering monster that introduces himself by draining the life force of the Seventh Sanctum, leaving the player's character Orin alone and dispatched with the wave of his hand. Four new story missions and five hunt missions encompass the new narrative and it feels as epic and grand in scope as the base game, providing a satisfying yet brief expansion that meaningfully enhances the overarching world of Godfall.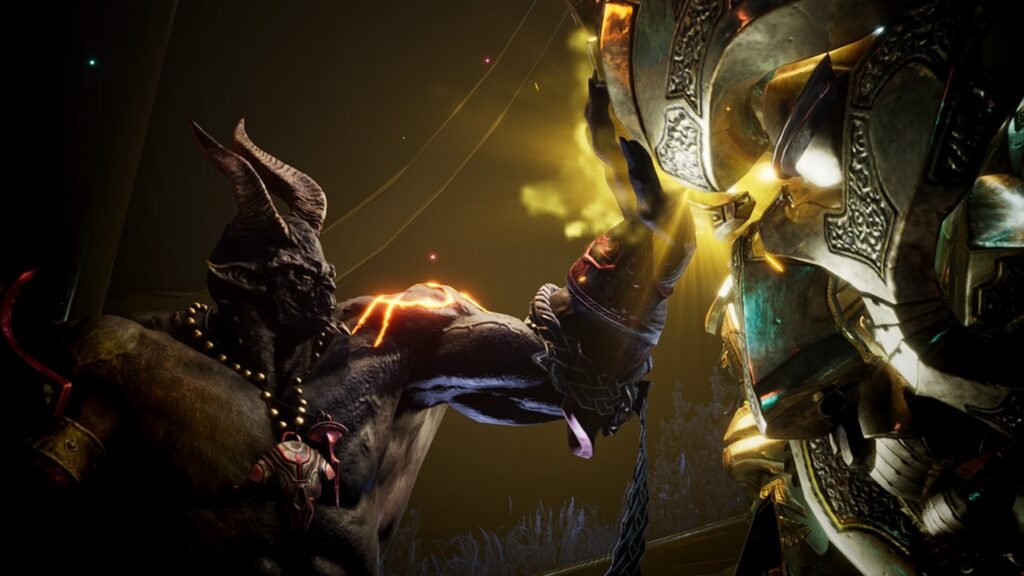 The new Fire realm is hauntingly stunning, peppering the dark, dull and ashy landscape with vibrant blue flames that truly add an ominous feel to the fiery domain. Continuing the trend of each realm having unique enemy designs and variants, Fire and Darkness feels unique and fresh, offering fun and new varieties to the environment, enemies and combat encounters. Considering this realm is also the largest one to date it had a lot to live up to but luckily, Fire and Darkness manages to fill the landscape with beautiful visuals and meaningful content that prevent a feeling of emptiness from creeping in.
Each of the twelve Valorplates each received several new skin variants to unlock by fulfilling certain requirements. These are merely cosmetics that offer coloured variants but they are worth the effort to unlock with the fun themes they each represent while also adding a much needed reason to continue the endgame grind.
It is worth mentioning that on the day Fire and Darkness launched, as well as the PlayStation 4 version of Godfall, players were also treated to the free Lightbringer update as well. This introduced the titular Lightbringer game mode, designed with co-op in mind, tasking players with defeating the Heart of Darkness freeing portions of the Sanctum's light while defatting waves of enemies. It's a blast in co-op and offers countless hours of a fun to the endgame loop and grind for better gear.
---
---
The new Cursed-tier items can be earned which require cleansing by completing associated challenges, a further enticement to players looking for more bang for their buck. A level cap increase from 30 to 50 seemed steep originally but considering the combined content from Fire and Darkness and the Lightbringer update, as well as the new gear and loot associated with them, Godfall has so much to offer than it did in November that is worth investing in.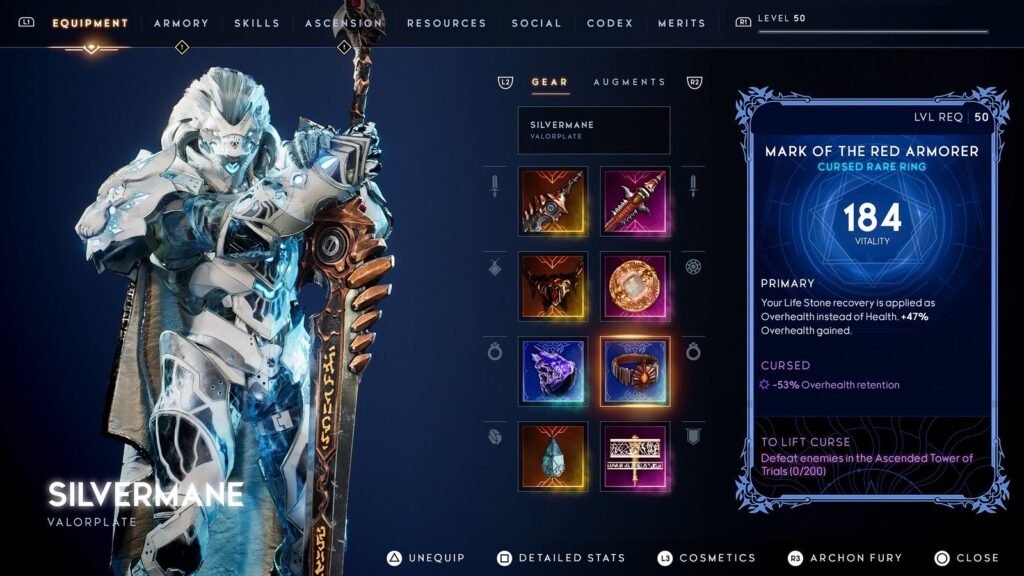 Godfall feels more like a complete package that offers dozens of hours of new content with Fire and Darkness and the Lightbringer update, enough to entice new players and managing to recapture the attention of existing players that wanted that little bit more to justify returning. It's fun, its dark and twisted and most importantly it feels rewarding with its wealth of new loot and customisation offerings.
---
+ Stunning new Fire realm
+ New Valorplate skins
+ Menacing antagonist and dark story
+ New endgame content
---
– Surprising lack of new Valorplates
– Familiar gameplay with the exception of Lightbringer mode
---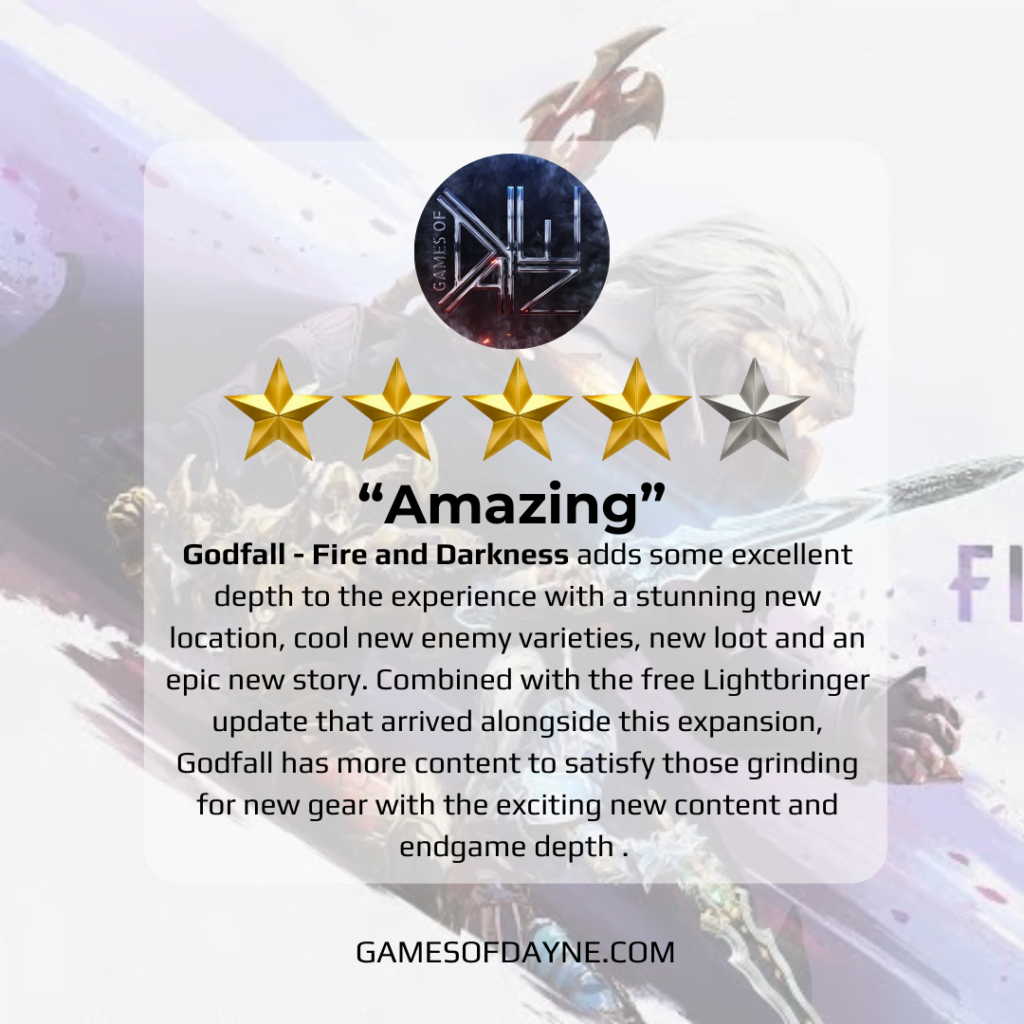 ---
Developed by: Counterplay Games
Published by: Gearbox Publishing
Release Date: August 10 2021
Platforms: PlayStation 4/5 and PC
---
– Additional Links –
For more of my reviews, click HERE.
To see this review and other multi-platform content from my associates at BG4G, click HERE.
For this and additional reviews, latest news, trailers and more from the rest of the team at Xbox Gamer Dad and One More Game, click HERE.
To see all the latest news and reviews from the team at Game News Aus, including this review, click HERE.
---
Don't forget to also follow Games of DAYNE on: Twitter, Facebook and YouTube!